2020 Harpur Palate Prize in Creative Nonfiction
Developed by former Editor-in-Chief Marissa Schwalm, the Harpur Palate Prize in Creative Nonfiction is awarded annually. The 2020 contest judge is Justin Hocking, whose bio is below. Hocking will select the winning entry among the top five selected by the Creative Nonfiction editor(s).
AWARD: $500 and publication in the winter/spring issue
READING PERIOD: September 1-November 15, 2020
GUIDELINES: Essays in any style, form, or genre are welcome, provided that they are no longer than 8,000 words. The fee is $18 for each entry and includes a one-year subscription to Harpur Palate. You may submit as many times as you wish, but no more than one essay per entry fee. Include a cover letter with your name, address, phone number, email address, and essay title. Your name should appear only on the cover letter and nowhere else on the manuscript. Submit at Submittable.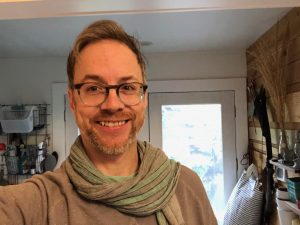 Justin Hocking is the author of the memoir, The Great Floodgates of the Wonderworld, which won the Oregon Book Award for Creative Nonfiction. The book was a finalist for the PEN Center USA Award and was a Barnes and Noble Discover Great New Writers Selection as well. In addition, he is the former Executive Director of the Independent Publishing Resource Center (IPRC). His work has appeared in The Rumpus, Orion Magazine, The Normal School, Portland Review, Tin House online, The Columbia Journal, and elsewhere. He is an Assistant Professor at Pacific Northwest College of Art and a full-time faculty member at Portland State University. He lives in Portland, Oregon.